My Blog
Posts for: June, 2014
By Comprehensive Dentistry
June 20, 2014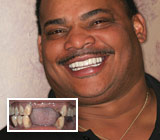 This is the story of a well-known man, fearless in most respects, who was afraid of the dentist. Even though his fears had resulted in neglect and serious damage to his teeth, modern dentistry and a talented dental team were able to restore his smile to health. If you share this fear, his story may inspire you to take action.
We're talking about William Perry, former defensive lineman and fullback for the Chicago Bears. Here is a man who could fearlessly face a football squad — but not a visit to the dentist. Nicknamed "The Refrigerator" for his 380-pound massive frame, Perry played for ten years in the NFL before retiring in 1994. Since retiring he founded and operated a construction company in South Carolina in addition to making celebrity appearances.
With his celebrity in mind, a team composed of a talented restorative dentist, implant surgeon, and lab technician agreed to give "The Fridge" a makeover. After discussing modern technology and virtually pain-free dentistry with him, they managed to overcome Perry's fears. "I had been in constant pain for many years and I neglected myself, not having had any dental care for over 20 years, not even emergency care. Unfortunately, as I grew older my teeth started to get loose," Perry told an interviewer. He had lost many teeth and became known for his gap-toothed smile.
Perry had severe gum disease and many of his remaining teeth were loose. In the past his only option would have been a full set of dentures. But his new dental team was able to place dental implants (permanent tooth replacements) supporting fixed bridges. In most cases dental bridges are attached to healthy teeth, but in Perry's case the implants served as anchors for the bridges. They also stabilized his jawbone, which would otherwise "resorb" or melt away after his teeth were lost. This is important because it helps preserve the contours of his face.
After careful planning "The Fridge" had eight dental implants placed in his upper jaw and seven in his lower. The final bridgework was completed four months later. It turned out that even though the gap between his teeth had become his trademark, "the Fridge" never really liked it. He was thrilled with his new smile.
Even if you have some fears, don't hesitate to follow Perry's example and make an appointment with us for a consultation about dental implants, smile makeovers, or bridgework. For more information about William "The Refrigerator" Perry, see the Dear Doctor magazine article "How Immediate Implants Saved 'Refrigerator' Perry's Smile."
By Comprehensive Dentistry
June 05, 2014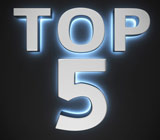 So you came in to the dental office for an exam, and now you've been told you need a root canal. But you're wondering: Do I really have to do this? I've heard all sorts of things about the procedure. What if I wait a while — would that be so bad?
The answer is: It just might! Whenever we dentists recommend a root canal procedure, we have good reasons for doing so. Here are the top five reasons why you shouldn't delay getting this important treatment.
The tooth is infected and dying; a root canal stops the infection. While the outer layers of the tooth are hard, the inner pulp is made of soft, living tissue. This tissue sometimes becomes infected (through deep decay, cracks in the tooth surface, etc.), and begins to die. Once that happens, treatment is needed right away — to stop the pain, control the infection, and keep it from spreading.
Root Canal Treatment Alleviates Pain. That's right: Root canal treatment doesn't cause pain — it relieves it. The procedure is relatively painless, despite the old stories you might have heard. In fact, it's not unlike having a cavity treated, though it may take a little longer. So if you're experiencing tooth pain (a major symptom in most cases of root canal trouble), remember that the sooner you get it treated, the sooner you'll be pain-free.
It won't get better on its own… If you ignore some things, they will go away. Root canal problems aren't one of those things. In some cases, if you wait long enough, the pain will go away. But that's not a good sign, because the problem won't go away on its own; it simply means that the nerves inside the tooth are all dead. The infection continues to smolder like glowing coals in a fire.
…But it could get worse. Left untreated, bacteria from the infected tooth pulp can travel through the roots of the tooth and into the tissue of the gums and jaw. That can cause a painful, pus-filled abscess to form, which will require urgent treatment. In extreme cases, It can also result in increasing systemic (whole-body) inflammation, potentially putting you at risk for more serious conditions, like heart disease and stroke.
Root Canal Treatment Can Save the Tooth. If you neglect treatment of a root canal problem long enough, you're at serious risk for losing the infected tooth. And tooth loss, once it starts, can bring on a host of other problems — like an increased risk of tooth decay on remaining teeth, as well as gum disease, bite problems… and, as oral health problems escalate, even more tooth loss. Why put yourself at risk?
If you would like more information about root canal treatment, call our office for a consultation. You can learn more in the Dear Doctor magazine articles "A Step-By-Step Guide To Root Canal Treatment" and "Tooth Pain? Don't Wait!"